I was really excited going to Amsterdam to spend my Spring Break. The Dutch has a special place in my heart because they colonized my country for around 386 years. The stuff I know about them in History class isn't always positive of course, but still, I heard there were a lot of Indonesian-related things there so I was looking forward to visit.
My friend Katie and I went to Amsterdam by train and we bought the tickets roughly two weeks beforehand so were able to snatch the Spar-Preis and only had to pay for €19. Here were our happy faces thinking that we got a got deal.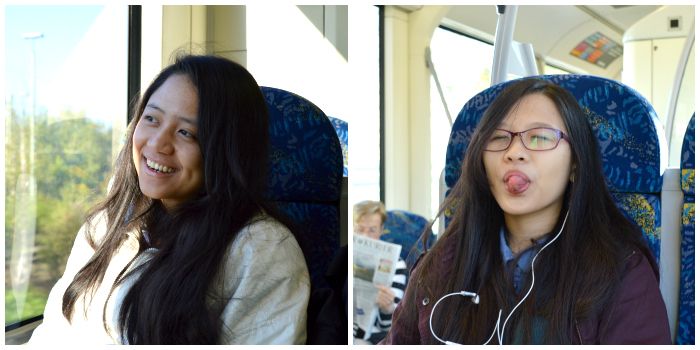 As usual, when everything is too good, it's just an illusion. I stupidly miscalculated the time of arrival of the train that took us from Bremen to Osnabrück so we missed our connection to Amsterdam. Half-heartedly, we bought new tickets on the spot and had to pay freaking €51.20… So much for traveling on a budget.
Long story short, we were finally on our IC train going to Amsterdam. We sat next to four barely adult German boys who were oh-so-loud. They had two small kegs of beer and offered us some. It was nice of them except that I did not drink and the more they drank the louder they were — they were even told off by several other passengers to shut up. I wanted to take a picture of them but I was caught before I could snap a clear picture. I stayed away from them but Katie talked to them once in a while. One of them said he was training to be a kindergarten teacher. Yeah right, they were going to Amsterdam to smoke weed but aspiring to be a kindergarten teacher — sounds legit. They also taught Katie some German words, and having been living among people who speak different languages, I never trust anyone teaching me some new vocabulary unless I ask them first, so I warned Katie several times. The words will be either in sexual nature or inappropriate, so don't try to pronounce them out loud.
Anyway, after three hours of torture we finally reached Amsterdam!!!
Luke went to his cousin's wedding in England so we met him at the central train station. My first thought of Amsterdam: what a tourist city it was. Everywhere we went we could hear English being spoken and people carrying huge backpacks. We didn't know where to go so we bought a €2.50 city map. A rip off I must say, but it was better than nothing.
First we went to the infamous Red Light District. To be honest, I don't understand what the fuss is all about. Yes they had some sex shops all around and there were prostitutes on the display windows, but I didn't see any reason why it wasn't considered to be 'safe'. I didn't walk there at night but I'm guessing it will not be deserted when it gets dark, so it is relatively safe. Unless you have children maybe, but then it's not children-appropriate area anyway.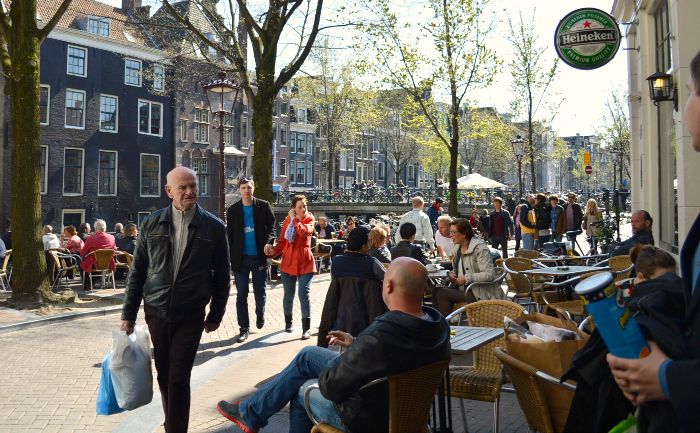 We also walked to Nieuwmarkt and sat down to take a break. I didn't expect to see a lot of Chinese restaurants along the way…  I quickly fell in love with this city
We stayed at Luke's relatives who lived on the outskirt of Amsterdam  close to Amstelveen. The neighborhood was quite new and really nice, some houses even had a canal in front of them! Heaven on earth.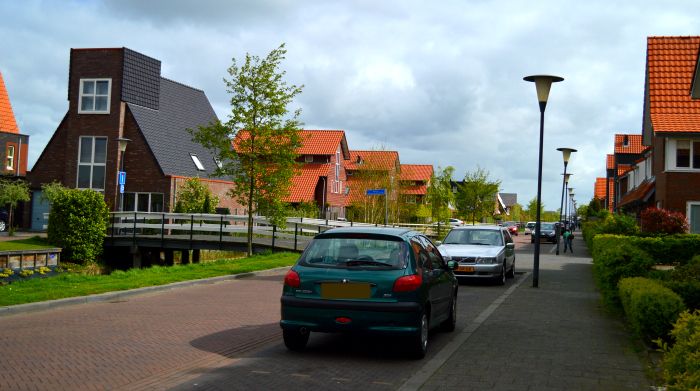 Have you been to Amsterdam especially the Red Light District? What do you think of it? If not, would you like to go there?